Our Mission
The Ontario Lyme Alliance is a not-for-profit organization dedicated to the promotion of awareness and education about Lyme disease as well as other infections carried by ticks. For the past two years, we have been working to facilitate changes that are needed in public and physician education on ticks and Lyme disease. As well, we have been advocating for better testing, medical care and treatment options for Lyme patients in Ontario.
Creating a Lyme Disease Strategy for Ontario!
On November 27th, 2014, Mr. Michael Mantha, MPP for Manitoulin-Algoma, tabled a motion in the Ontario Legislative Assembly which asked that the Minister of Health develop a provincial strategy for Lyme disease. You can read the text of the motion
here
.
Although the motion was passed unanimously, this strategy must be developed before the deadline of November 27th, 2015, or the motion will no longer be valid.
The Ontario Lyme Alliance is therefore currently working to urge the provincial government to follow through on its promise to create a provincial strategy for Lyme. Find out how you can help
here
.
Recent News
On May 6th, 2015, over a hundred Lyme disease patients and advocates from all over Ontario came to Queen's Park to show the Minister of Health that citizens of this province are asking for the development of a strategy to protect citizens from this devastating disease.
Last November, all three parties unanimously voted to pass MPP Michael Mantha's motion for a Lyme disease strategy in Ontario. However, six months later, there still has not been any official announcement about the development of Ontario's Lyme disease strategy. MPP Michael Mantha stood up on May 6th during Question Period to ask the Minister of Health, Dr. Eric Hoskins, to update Ontarians on the current state of the strategy.
Dr. Hoskins replied to MPP Mantha's question, and you can see the exchange below:
MPP Mantha's question begins at 49:35, and MPP Toby Barrett also asks about the Lyme disease strategy at 34:50.
It was encouraging to see that almost all the MPPs in the legislature that morning were wearing green ribbons to support Lyme disease awareness - and some even came decked out in lime green. Several MPPs joined the members of the Lyme community out on the front lawn of Queen's Park after Question Period to take the "Lyme Sucks Challenge" by taking a bite out of a lime.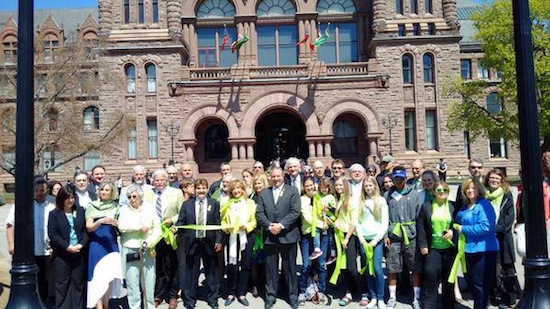 The galleries of the Ontario Legislature were filled with people affected by Lyme disease, and some MPPs remarked afterwards that they'd never seen such a large turn out from an organization at Queen's Park before.
Please be sure to tweet, call, e-mail, or visit your MPP to keep reminding them that we need a Lyme disease strategy in Ontario!